In this post, you will learn the overview of NestAds Pixel – What it is, How it works, and How it differentiates from platform pixel. Let's get started now!
What is NestAds Pixel?
NestAds pixel is a piece of code installed on your website to track visitors' behaviors on your website and ad performance. It helps you measure ad impact from multiple channels accurately, and get more customer insights.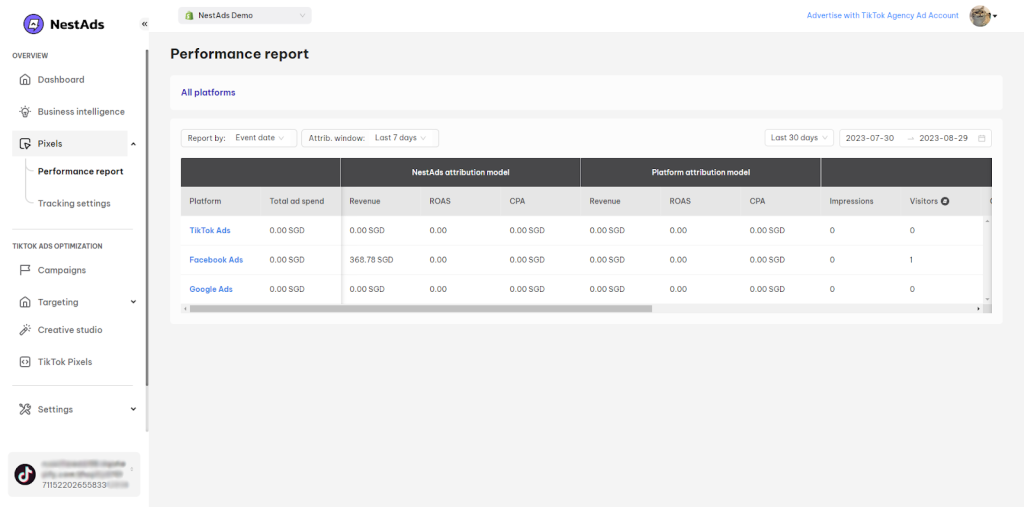 How NestAds Pixel works
NestAds pixel will track your website visitors' actions, such as view content, add to cart, initiate checkout, or complete payment.
With the aid of UTM tracking parameters, it can keep track of every ad that leads customers to your website. When they eventually place an order, the NestAds pixel attributes credit back to those ads.
Because the NestAds pixel is a side server tracking mechanism, its data collecting capabilities are not limited by the impacts of IOS 14.
>>> Read more: NestAds Pixel – Performance report
UTM Tracking Parameter
UTM tracking parameter is a snippet of code that is added at the end of your campaign link. It supports NestAds pixel to better track your ads and provide accurate attribution data.
To be specific, using proper UTM tracking parameters helps you decide which source & ad campaign is bringing good traffic to your site and its impact on the buyer's journey.
UTM tracking parameter powered by NestAds is now feasible with popular ad platforms including TikTok, Facebook, and Google. You can't get out of the NestAds pixel value without UTM tracking parameter setup.
Attribution, Attribution Window & NestAds Attribution
Attribution refers to giving credit to an ad or source for turning a lead into a conversion.
For example: A customer engages with your ad campaigns from different channels before he places an order. Among various touchpoints in the customer journey, attribution is the way you identify which one deserves credit for the ultimate purchase.
An attribution window is a defined period of time during which events are tracked and attributed to an ad.
For example: When the attribution window is set to 30 days, all ads that a customer interacts with within 30 days before making a purchase are sorted, and the selected ad(s) are credited. (The selected ad depends on the attribution model). 
At NestAds, you can select an attribution window that is reasonable for your customer journey. There are 4 options: 7 days, 14 days, 30 days, and 60 days. 
NestAds attribution is an attribution model built by NestAds. It's the best measurement strategy for businesses that run omnichannel marketing. Unlike other attribution models, NestAds attribution assigns 100% credit to the last ad click per ad channel in the customer's journey right before they make a purchase.
For example: If a customer clicked on Facebook ad #1, then Facebook ad #2, then a TikTok ad, then a Google Branded Search ad, and finally made their purchase, then Facebook ad #2 would receive full credit, AND the TikTok ad would receive full credit, AND the Google ad would receive full credit.
In this model, the final click a user made within each ad platform is deemed the most significant, and credit is assigned thereby.

>>> Read more about marketing attribution here
---
Need any help?
If you need any help with NestAds pixel, feel free to contact us via live chat in app or email at [email protected]. Our support team is happy to help!