In this article, we will learn how to set up a A/B testing in automation flow. Let's get started now!
What is A/B testing?
If you're not familiar with A/B testing, it's a data-driven way to test which email version better resonates with your recipients.
With the information you get from A/B testing, you can improve your email content and reach to your customers in other efficient way. You can set up the percentage for each path then customer data will flow down to the paths based on percentage.
How A/B testing works
A/B testing allows you to choose the best subject line, Sender's name, Sender email address, or Email Content. While setting up the email, you can select the percentage of recipients A and B versions sent to.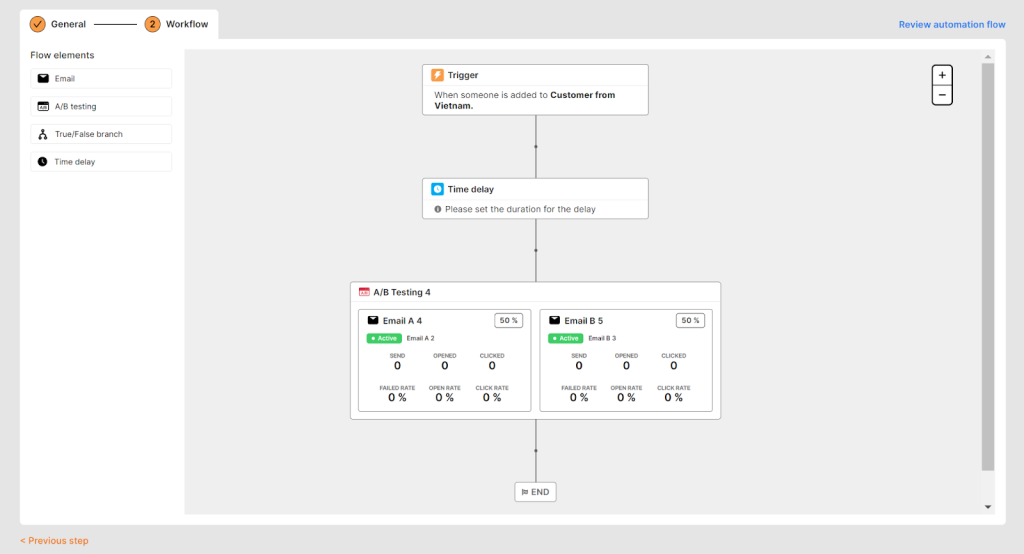 Take a look at the automation workflow above and see how A/B testing works in this case:
When a customer creates a new order on your store, base on the valuable percentages, your customers receive an email on path A or B, but this is completely random distribution. You can see the results of each email right under them to easily compare and find out the best ones.
How to create A/B testing in automation flow
Note: You can add A/B testing element in a new or an existing automation flow.
Navigate to Automation Flow section in the left sidebar
Click on New automation flow > Select a template or create custom workflow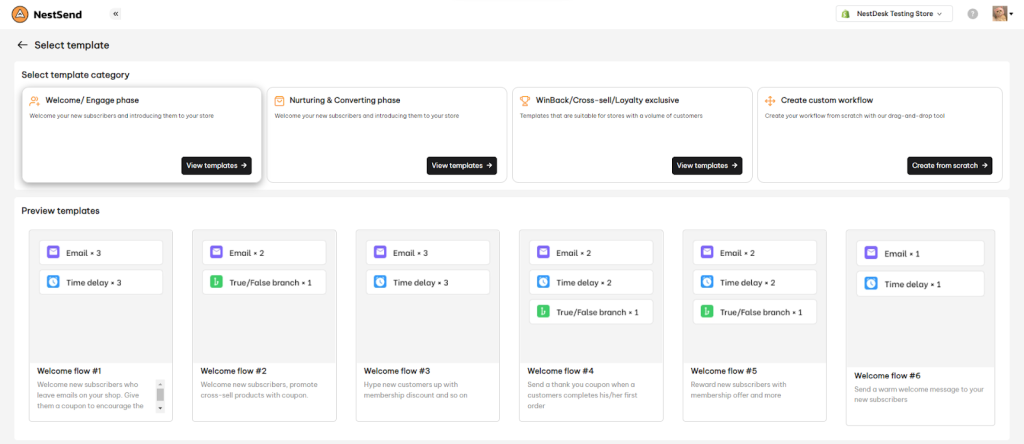 To add the A/B test split to the automation workflow, simply drag the A/B test block to the sequence.
Edit A/B testing settings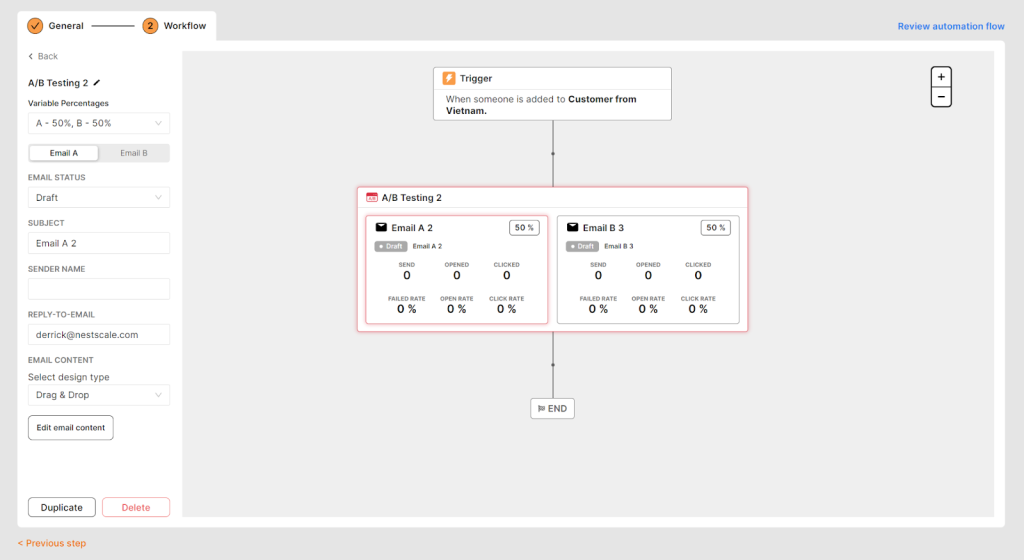 – A/B Testing Name: Enter a name for identify your A/B testing. This name is internal so only you can view it.
– Variables percentage: Decide the percentage of recipients A and B versions sent to
– Email status: There're 2 statuses available (Active and Draft)
– Email subject: An email subject line is the first text recipients see after your sender name when an email reaches their inbox.
– Sender name: Sender name (also known as from name) is the name displayed in your recipients' inboxes.
– Reply-to email: Select the email address to receive the customer's reply.
– Email content: Select design type you want and edit your email content
Note: You can also duplicate or delete the editing A/B testing.
Click on Save options (Save as draft/ Go Live)
Measure A/B testing result
Finally, you will also want to understand what impact each of the paths had on the automation performance. For example, the open rate is mostly determined by the subject line, preview text, or sender's name. In contrast, the content of the email message determines your customers' engagement and conversion rates.
That will help you to make a quick decision on the best path performer and switch your automation accordingly.
Sent – number of messages sent;
Opened – open rate;
Clicked – click-through rate;
Failed rate – the percentage of email addresses in a mailing list that did not receive promotional messages because the recipients' mail servers returned them;
Open rate – the percentage of subscribers who open the email out of your total number of subscribers
Click rate – the percentage of people who click on a link or image within an email. The email click rate may be considered a measure of the immediate response rate of an email, but not the overall success.
---
Need any help? 
Feel free to contact us via live chat inside the app or email us at [email protected]. Our support team is happy to help!