Discover all things basic about NestScale Bundle – What NestScale Bundle is, what you can do with it and who should use it
What is NestScale Bundle?
NestScale Bundles is an upsell & cross sell app that helps eCommerce businesses to increase order value and boost sales from bundle discounts.
You can create multiple bundle types ranging from classic bundles, volume discounts bundles, mix & match bundles, etc. It is easy to set up, customize and showcase different bundles on your website. No coding required!
What can you do with NestScale Bundle?
Tailored-made for Shopify merchants, NS Bundle provides you with a variety of necessary features as shown below.
Create Bundle
NS Bundles allows you to create various bundles that best match with your demands.
Product Bundle
Product bundle is a mixture of multiple products with good price discounts. For product bundle, you can set discount rule by selecting one from following types:
Percentage discount
Free gift
Fixed discount amount
Set price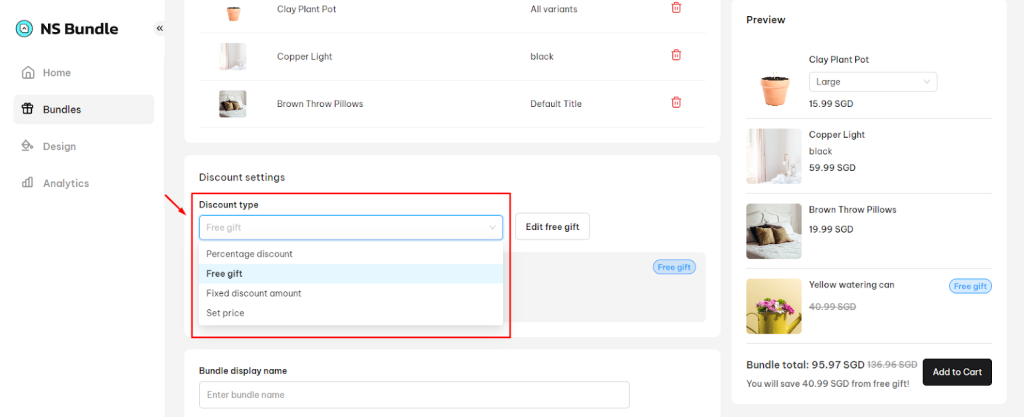 For example, you create a bundle of product A + product B + product C and set the discount type:
Percentage discount: Get 10% off on the total bundle price
Free gift: Pick product D as the free gift for the bundle
Fixed discount amount: Get $20 off on the total bundle price
Set price: Set a specific price for the bundle (This price has to be lower than the original total bundle price)
Volume Discount Bundle
With volume discount bundles, you can upsell by giving a discount when customers purchase a certain quantity of a product.
There are 2 available discount types you can set for volume discount bundle:
Percentage discount
Fixed discount amount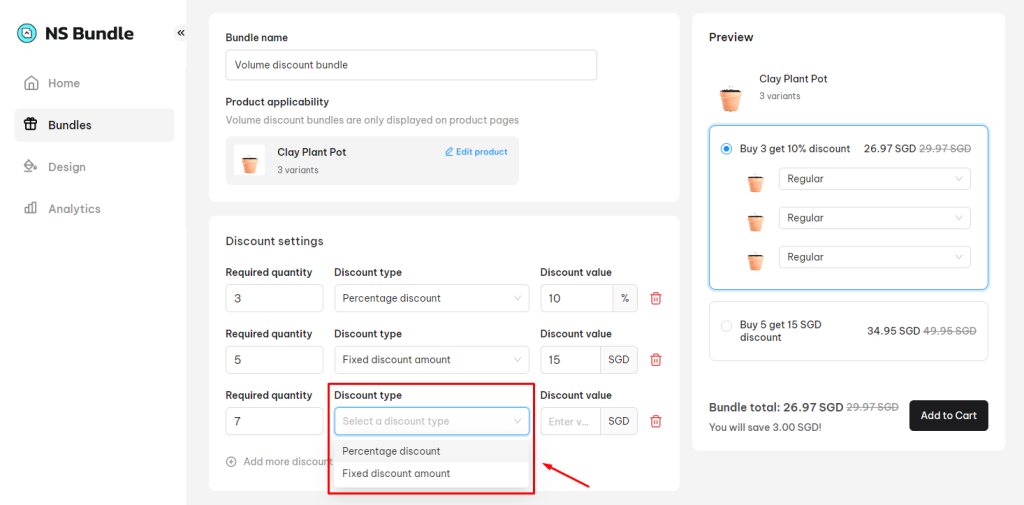 For example, create volume discount bundle for blue T-shirt
Buy 3 blue T-Shirt, get 10% off
Buy 5 blue T-Shirt, get $20 off
Customize & Showcase Bundle
You can customize the design of your bundle to resonate with your store theme. No coding or design skill is required, it is easy to change color, adjust text in the bundle.
Who can use NestScale Bundle?
Any eCommerce businesses that want to increase order value and drive more sales. NestWidget helps you both sell more products & get more money from irresistible bundle offers.