We are excited to announce an important update to the NestSend Signup Form in response to recent changes in the Shopify API theme asset. As Shopify continues to evolve its platform, we have ensured that our NestSend integration remains seamless and fully compatible.
The modifications will be implemented within the app starting from Friday, August 18, 2023.
How to Update
Follow 2 simple steps below to reconnect NestSend app on your Shopify store.
Step 1: In your Shopify admin dashboard, search and click to open NS Abandoned Cart Recovery app.

Step 2: In your active store theme, click on App embeds tab > turn on NestSend embeds > click Save button.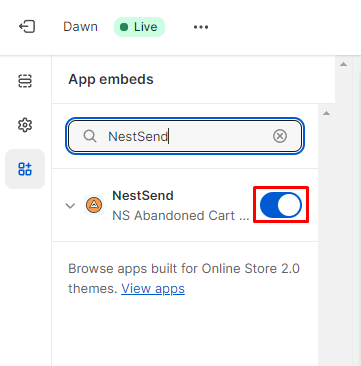 📌 Important
If you do not reconnect NestSend app by the deadline, the current active sign-up form and new ones will no longer display on your website.

>>> Read the article for more information: Shopify API Asset